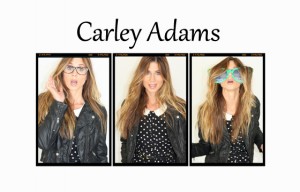 Carley Adams BIO
Growing up in the little town of Mesa, Arizona where it's totally normal to be fluent in Spanglish and be bit by a scorpion at least once in your life, Carley managed to be the only member in her family to have escaped the desert sting – largely due to carrying around a black light for most of her childhood. When she wasn't torching scorpions or raising pygmy goats on the farm, she spent her days flipping burgers at the family-owned fast-food restaurant chain where her Dad would fire her everyday for constantly pranking the customers. She got her first celebrity interview at age 9 when she ended up on a ski lift smack dab in the middle of the Nelson Twins – yes, THE blonde-haired, butt-rockin twins from the 90's. Always one to break the silence with an awkward question, she asked, "Are you guys friends with Milli Vanilli?" They both laughed and Gunnar even commented on how cute and funny she was. That's when she knew she was born to make grown men laugh at her.
Carley is a Writer, Producer, and all around Funny girl. When she's not on the street interviewing the PBR chuggin', Wal-Mart shoppin', Nascar lovin', river floatin', and trailer park livin' folk, with whom she feels most at home, she's makin' slap sticky vids and Prankin' everyone she comes in contact with.
Carley recently created the show Girls With Balls which is basically the female version of Jackass meets Punk'd. She sold the Pilot to E! and partnered with All3 and Objective Media to develop it….stay tuned for more! She also recently produced the kids prank series I pranked my Parents for DreamWorksTV and AwesomnessTV in which she also wrote, directed, and starred in all 21 webisodes. She continued on to work with some of the prank gods of Hollywood like Jeff Tremaine (JackAss) working on his new prank show as a writer and pranker for Seasons 1 and 2 of the hit show Swerved for the WWE network which led to working with her favorite and fellow pranker Eric Andre on season 4 of the Eric Andre Show for Adult Swim. Aside from playing in the hidden camera prank world she recently got to show off her comedy chops playing the spiritual but crazy Monica White on the hit Webseries Not So Union.
Check out some of her latest and greatest moments:
Carley Adams Pranky Pants Reel:  http://youtu.be/yxlHDyoTSUQ
Carley Adams Comedy Reel:  http://youtu.be/mqNwnODYauc
I Pranked my Parents Sizzle Reel:  https://vimeo.com/194574893/e79370e00f
Girls With Balls Sizzle Reel:  https://vimeo.com/165224257/settings/privacy
Not So Union Ep. 1: https://youtu.be/RXTY4dnKSpc